Paraka Productions
please go there to see all of my works.
They should also all be up on
AO3
.
If you need to contact me for any reason (including questions about any of the many comms I run), my email is parakaproductions at gmail dot com.
I'm mostly active on Twitter these days, so if you want to chat with me over there, I'm
ParakaPodfic
there.
Remix Policy
If you'd like to remix any of my fandom offerings (that includes anything I created on this journal), all the power to you. I don't have much fic but you're welcome to podfic it, write sequels or rewrite them entirely; whatever strikes your fancy.
Same goes with my vids, feel free to copy ideas or take clips if you need.
If I've podficed a story that you'd also like to podfic, don't let me hold you back (I don't actually think you need to ask first before repodding but if you were thinking about it, no need).
If you want to do anything with my works or fannish presence, go for it, you don't need to ask first (although I'd be totally interested in seeing what you make of it :).
Now that I'm no longer ashamed of my webpage,
Fic
:
Some Assembly Required
by
valtyr
(text link)
Fandom
: Marvel Adventures
Pairing
: Steve Rogers/Tony Stark
Length:
7:25:48
Links:
MP3 (zipped)
(427.9 MBs) |||
M4B
(217.8 MBs)
Summary:
Tony Stark is trying to set up a new superhero team when he's given a sex change, courtesy of Victor von Doom. He copes with that about as well as you'd expect.
Notes
: This was recorded both as part of Marvel Big Bang 2015 and for #3DNPodfic. Thank you to
RsCreighton
who has been a wonderful cheerleader, beta, and partner in crime. You should check out her podfic of this story too!
Thank you also to
reena_jenkins
for coverart advice, even though I ended up going with something different.
To follow up on the reader's notes at the end of the podfic, surprise, I didn't make my original deadline for Marvel Big Bang, and my cat did destroy my computer's monitor, but luckily I got it replaced under warranty so all is good now. :)
(
Streaming
Collapse
)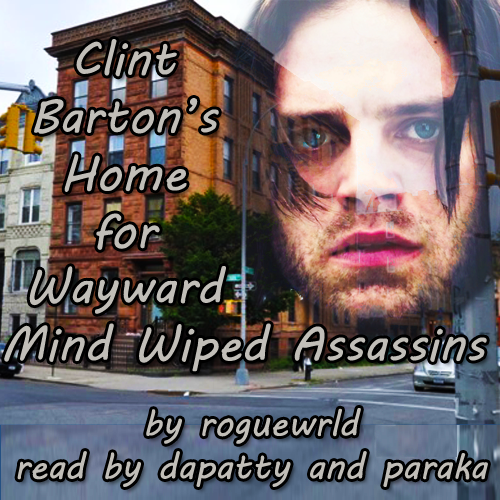 Fic:
Clint Barton's Home for Wayward Mind Wiped Assassins Series
by
roguewrld
Readers:
dapatty, paraka
Fandom:
Avengers (Captain America and Agents of S.H.I.E.L.D. too)
Pairing:
Gen
Length:
0:39:12 (0:44:47 for the complete series)
Links:
MP3
(54.2 MBs) |||
M4B (complete series)
(61.7 MBs)
Summary:
"Where ever you were, whatever you did and whoever you did it for, it's over. You need to pretend to be a person now, okay?"
(
Streaming
Collapse
)
UneditedLength:
0:59:17
Download:
MP3
(81.8 MBs)
(
Streaming
Collapse
)
Notes:
This was recorded when paraka visited dapatty and we spent the weekend hanging out and having fandom feels. We kept interrupting our recording of this to have feels at each other, or to ramble, so we decided to release the unedited version too in case anyone else wanted to listen in on that.
---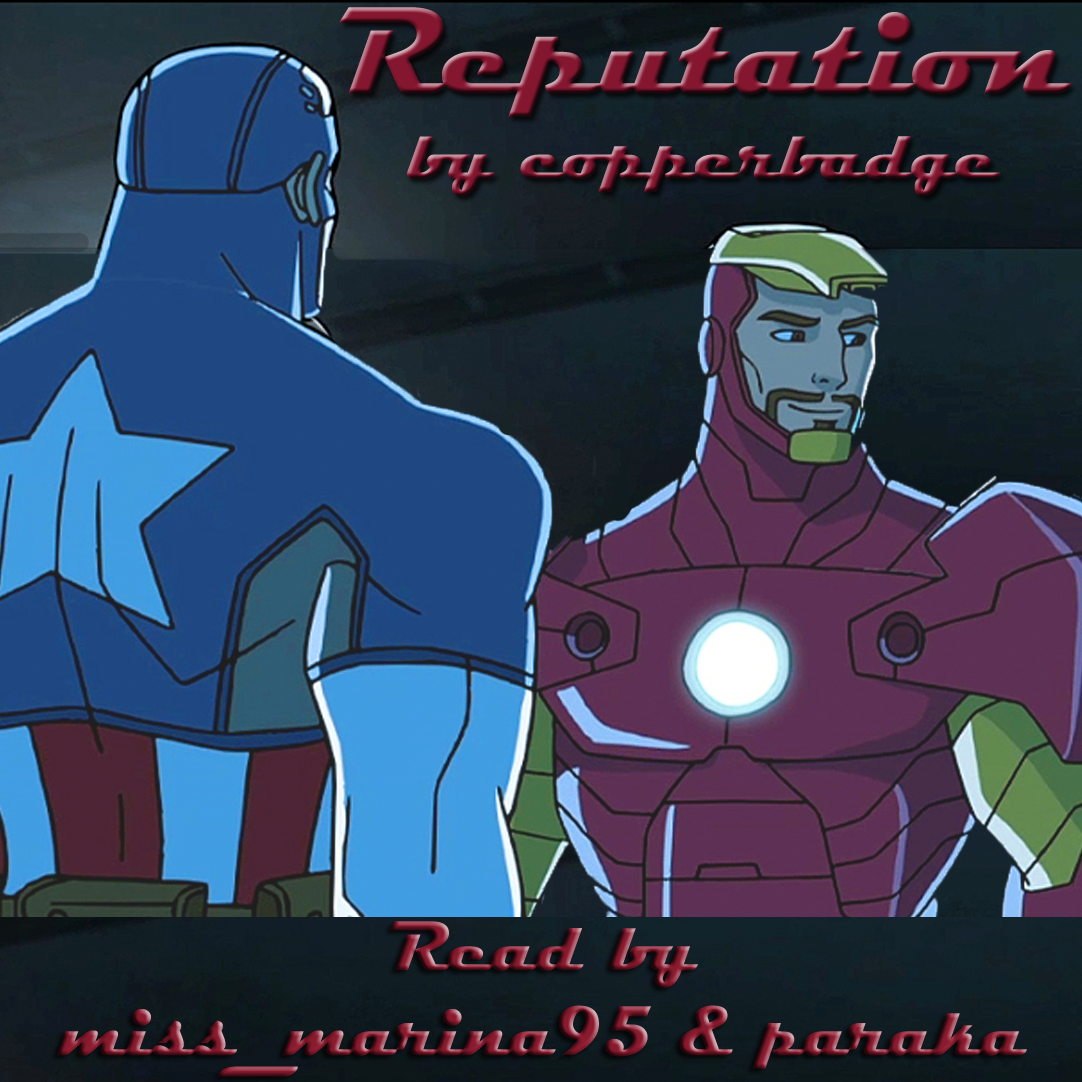 Fic:
Reputation
by
copperbadge
Readers:
miss_marina95, paraka
Fandom:
Avengers
Pairing:
Steve/Tony
Length:
0:13:01 (0:14:39 with bloopers)
Links:
MP3
(13.2 MBs) (+
Bloopers
) |||
M4B
(10.5 MBs Bloopers included)
Summary:
Steve thinks Iron Man is trading sexual favors to Tony Stark for perks for the Avengers, and he's determined to protect his teammate.
(
Streaming
Collapse
)
Notes:
This podfic was recorded during Avengers Age of Ultron opening weekend in N. America. I (paraka) few down to California for the weekend (from Canada) so that the two of us could see the move together. There was much clutching at each other while we exploded from feels, we recorded this between viewings. :P
Fic:
You Are Home
by
nightwalker
Fandom:
Avengers
Pairing:
Steve/Tony
Length:
0:09:56
Links:
MP3
(13.9 MBs) |||
M4B
(11.1 MBs
Summary:
It was Steve who'd wanted to go out and choose the house themselves. Tony hadn't even thought about it - sure, people did that, he watched the home improvement channel sometimes when Peter got to the remote before anyone else so he knew how it worked. But it had never occurred to him that he should do it.
(
Streaming
Collapse
)
Notes:
This was recorded back in January for miss_marina95's birthday, but I was so sick at the time that I barely got through the recording let alone editing, then I started a new job... and now it's almost May and way late for a birthday present, but there you go. :)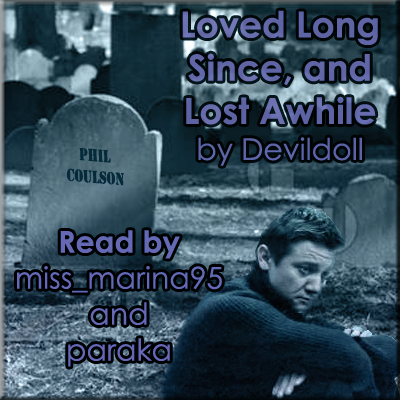 </p></center>
Fic:
Loved Long Since, and Lost Awhile
by
DevilDoll
Readers:
miss_marina95
,
paraka
Fandom:
Avengers (MCU)
Pairing:
Clint/Coulson, Clint/Natasha
Length:
0:55:47
Links:
MP3
(76.8 MBs) |||
M4B
(61.4 MBs)
Summary:
"It's the small stuff that hurts the most, he finds." Post-movie Clint/Coulson fix-it.
(
Streaming
Collapse
)
Notes:
This was recorded when miss_marina95 (a Cali girl) decided that February would be the perfect time to visit me in Canada. This is also when I dragged miss_marina95 into Avengers fandom and made her record this really sad story. For all that, though, we managed giggle our way through the recording.


So, if you would like to get a podfic card from me, leave me your address in an (screened) comment, or email it to me at parakaproductions at gmail dot com. I'll mail internationally. :)
While on a quest for an awesome iPhone case, I ended up deciding to just design my own through one of those made to order sites. And, since I'm the biggest sucker for the whole "might as well make the shipping worth while" mentality, I ended up searching through their other products. They mostly cater to small businesses and make business cards, letterheads, promo swag, etc and I somehow found myself designing a podfic header and getting cards made.